I started working on the Outward Bound Ropes Course, in John McLaren Park in San Francisco, recently as the Site Manager. I got to spend the last few weeks of the 2022 season getting to know the staff and seeing what it takes to run our programs. After working at other ropes courses and pursuing my degree in recreation admin, I took this job as a way to combine my skills and pursue new goals. What I have enjoyed the most so far is being able to work with a close-knit group of staff that clearly has the skills and knowledge to run exceptional programs. I took this opportunity to speak with some of the instructors about their time on the course and hear from them about what it's like to be an Outward Bound ropes course instructor.
Cass (she/they)
Cass first started this job as one of our two apprentices. Along with Victoria, who you can read about in our post "Ready, Set, Victoria," the two of them came to the course with little experience in ropes courses. Throughout Cass' past year at OB, they have learned and grown their skills tremendously.
Outward Bound's apprentice program is a 12-week entry-level program that is designed to give someone all the tools they need to become an instructor and help operate the ropes course. "Apprentices gain a comprehensive, entry-level understanding of outdoor education instruction and how to teach utilizing our Challenge Course." The program is also designed to help serve minorities and populations not typically represented.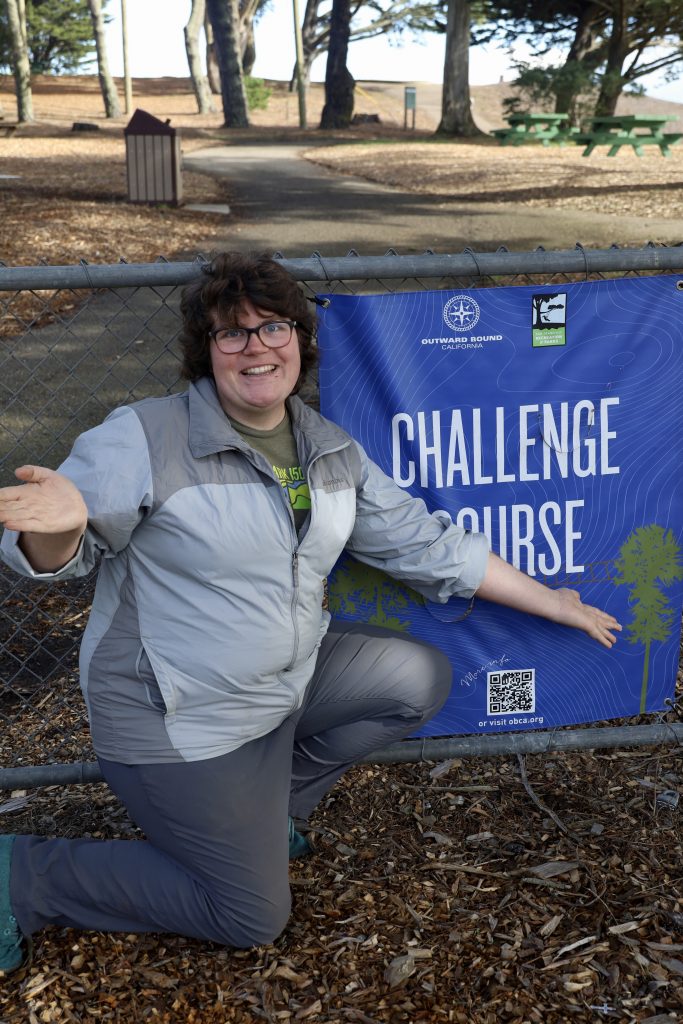 Cass speaks of their time as an apprentice very fondly and says that it was the perfect way to get into the field.
"I saw that OBCA was hiring on Instagram and when I was looking at the job titles, I saw the apprenticeship did not require any previous outdoor education or ropes course experience, which was exactly what I had," she said.
"I didn't know what the word belay was before I got this job," Cass said she learned a lot of technical skills and terminology the most during her time as an apprentice. "[This job] gave me a lot of space to come into the program, ask a lot of questions, not really know what's going on but still feel supported and welcomed."
Since completing the 12-week program, they have been working as an instructor since April and are flourishing in the role. She says applicants will get as much out of the program as they put into it and encourages anyone interested in the industry to apply.
Cass' favorite part of programs is seeing the growth in the students throughout the day. "It's fun to see students push past their own boundaries and see the other students supporting each other."
Throughout their time as an instructor, she has continued to gain skills and pick up on what best serves the students. "We normally see a beautiful progression of [the students] being a little skeptical of what we're doing and what we have to offer and then really getting into it," she said.
Cass credits their success to their time as an apprentice, "I learned everything from that program," they said.
Arianna (she/her)
Arianna has been working on the course as the only full-time instructor for the past year and brings an extensive background in outdoor education to the role. Arianna has had many roles in the industry from working at camps, after school programs, and for three-and-a-half years as an instructor at the Pacific Leadership Institute (PLI) Fort-Miley ropes course, a course that has since closed down.
She first heard about Outward Bound when studying recreation in college. "I always wanted to work with Outward Bound, once I saw there was an opening I was hoping I would get in, and thankfully I did," she said.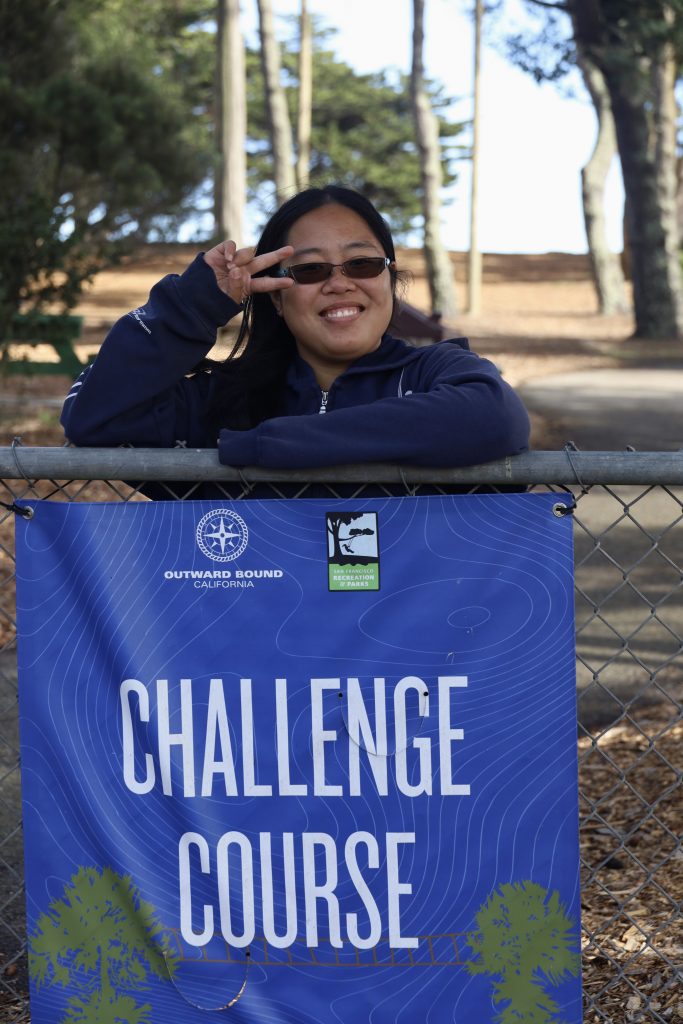 A typical week at the course consists of a prep day on Tuesday and four programs that run Wednesday through Saturday where the staff works with a variety of groups. The course features eight elements on a traditional challenge course as well as two stand-alone elements: the discovery tower and the leap. Most programs also include initiative activities at the beginning of the day where low elements can be set up to allow guests to practice closer to the ground.
A normal workday begins with the first hour of setup and reviewing the schedule of the day before the students arrive. Once the students arrive and are checked in the staff starts off with a welcome circle to introduce the program before moving into the initiative activities that get the students moving, thinking, and interacting with one another. When it becomes time for the students to start climbing the high elements, most groups are first taught an extensive belay school where the staff is able to provide more individualized instruction to help the students learn the skill.
"It's cool seeing all the different kinds of clients we work with– we usually work with kids but sometimes adults," Arianna said.
Outward Bound typically works with community-based programs and middle and high school groups from throughout the Bay area, so a large number of groups are local students. Occasionally, adult groups from corporate programming also come to the course. And, once a month the course holds a Community Day where members of the local public are invited to experience the course as well.
Arianna first came to the job wanting to grow her skills in the outdoor education industry. "I started here wanting to overcome my fear of heights and public speaking and I've been able to get over those fears and grow in that area."
She said you don't need a lot of experience to get started in this career, as long as you want to learn, the staff can teach you a lot of technical skills. "It doesn't matter how much or little experience you have as long as you're willing to learn and interact with the participants."
Roger (he/him)
Roger has worked for Outward Bound for seven years. He has a lot of experience in outdoor education and describes his time on the course as very rewarding.
"I find that the most rewarding part is teaching them a new skill," Roger said about teaching belay. The students are taught a lot of skills in the first half of the program and then have the chance to apply all the skills they have learned to work together and help each other on the high climbs in the afternoon.
Roger has been doing ropes course work since he graduated high school. He also worked at PLI with Arianna and currently instructs several of OBCA's longer expeditions in the High Sierra and Joshua Tree.
Roger was a student with G.O.A.L, a program for high school students based in San Francisco that stands for Get Out and Learn. This program inspired him to explore the outdoor industry and allowed him to have a lot of experiences that motivated his decision to pursue this career path. One of the most life-changing experiences he had was in 2013 when went on a 22-day expedition with OBCA.
"I did it as a student and it changed my life," he said. After graduating, Roger pursued his career with Outward Bound and, in addition to instructing days on the ropes course, he also leads extended expeditions with OCBA just like the one he once went on as a student.
Roger encourages anyone interested in this role to simply go for it. "You don't need a lot of prior experience, we'll teach you," he says. "It's definitely different from your typical nine-to-five or trade job but I find it very rewarding."
Join the team!
As we move into the 2023 season we are excited for more people to join our team and help us grow our programs. Positions are open for ropes course apprentices, instructors and lead instructors, and an additional Site Manager. Part-time and full-time openings are also available for each role. For more information or to apply visit our field positions page at outwardboundcalifornia.org/connect/careers/field-positions.
About the Author
Sierra is originally from Upstate New York where she first found her interest in ropes courses and the outdoors. She moved to California to attend college at San Diego State University where she earned her Bachelor's degree in Journalism and Recreation Administration. Before coming to OBCA she worked at ropes courses and ziplines with Wildplay Elements Parks and the San Diego Zoo Safari Park. She has been working as the Site Manager of the OBCA ropes course since September of 2022.
(Visited 273 time, 1 visit today)