Midpines sits 30 miles outside of Yosemite National Park, making it a popular stopover spot to see the park. Sometimes people stay at one of two funky accommodations: the Yosemite Bug or AutoCamp. But there's another accommodation at Midpines where Outward Bound California staff reside for the summer – where they share appreciations around a circle and eat chef Bucky's creative meals – it's our basecamp.
Sure, it's as hot as can be in the summer, with temps staying in the high 90s in July and August, and it can be hard to find some alone space, but with that also comes a tight knit, welcoming community.
"I haven't felt that connected to a community since I was in college. It's challenging – you're living, playing and working together all the time. But it's also incredibly special. It fosters quick friendships. There is always someone doing something cool and everyone is usually invited to join. Like playing a boardgame, or going for a hike or rock climbing," Blair said. She just finished her first season as a Logistics Coordinator (LC) and is returning next summer.
"One thing I love about base, everyone is super into their hobbies. I talked to Jonathan about clouds, and he knew so much about cloud formations. Han guessed the exact yarn I was crocheting with. Lauren is super into needlework and different embroidery. People have deep wells of knowledge that are kinda cool and really interesting."
From all accounts, Blair has been an excellent LC. An LC manages the equipment, food, and transportation for our expeditions in the Sierra Nevada mountains. It's a detailed job – for example – a good LC has a system to track and respond to lots of requests from Instructors, like extra food. Someone would thrive in this role if they love a good checklist.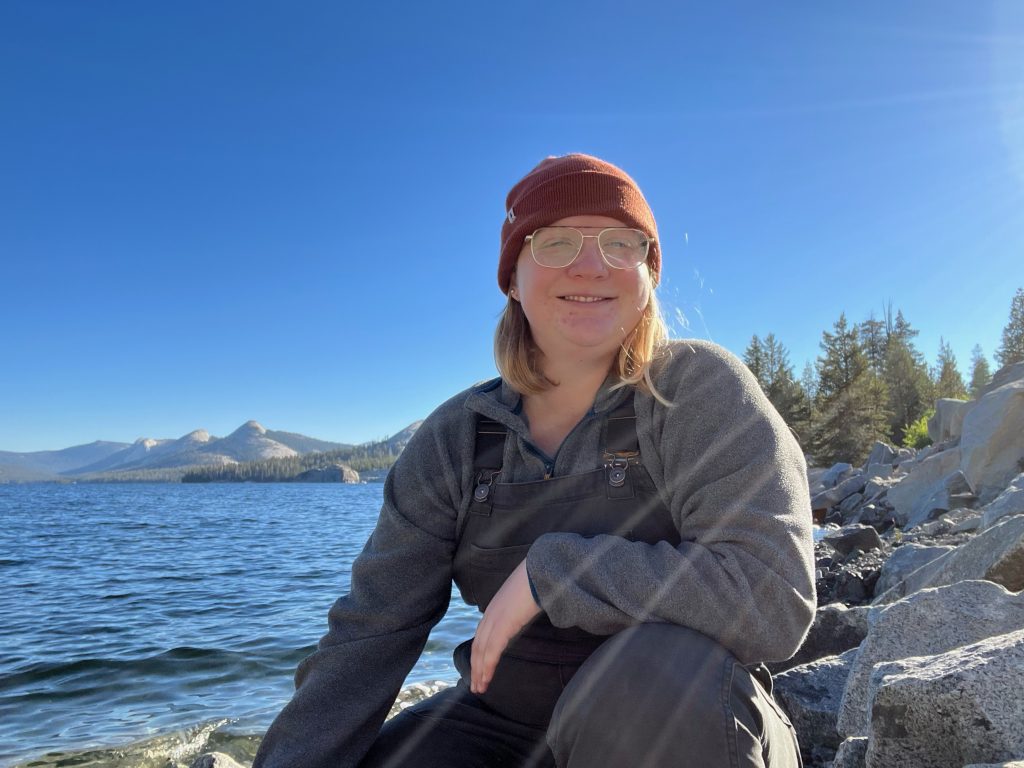 Blair said there is a culture of working very hard, but when you're not working, staff pay attention and make sure your time off is respected. When you live and work in the same place, it's important to have clear boundaries so you can actually get a break. Blair said if you're off work and someone wants to ask you a work question, base etiquette is to ask: "Hey I have a work question, can I ask it now? And no is a totally acceptable answer."
Blair said the role follows a course cadence. An LC's role is focused on what is happening on course and how long the course is. For a 14 day expedition, Blair would work six days straight for course start, and then have a day off, work four days to prepare the resupply, have two days off, and then six days for the course end.
The majority of the work is performed at 'Logiland' in Midpines, packing food, cleaning and packing gear, but about 20% of the position is in the field with Instructors and students on their course. That time is during course start, any resupplies and at course end.
At course end, the logistics team is responsible for bringing and preparing breakfast, lunch and dinner, as well as packing the truck and helping Instructors. They wake up along with the students at 4:30AM. But while students recover and sleep on the bus and prepare to head home, the staff return to Midpines and start what we call "deissue" where they wash and hang up all the tarps, backpack and rain gear and clean dishes and pots and pans. They unload the truck contents into lockers and sheds. These course end tasks are called "post" and continue through the next couple of days.
At the end of the first day back, everyone who worked on the course, including the admin, circle around and share their gratitude for their fellow staff. After a long course, it can be really refreshing to have this moment of closure with one another. They enjoy a meal afterwards, and tradition is that the Instructors on the course request a favorite meal from the camp chef, Bucky.
Blair's favorite is Bucky's Thai Curry. "She's bored of it, but I love it. And her mac and cheese is really good. As far as a meal on course, I like the burrito blowout because you get to be with students and chat with them in the kitchen."
---
Fall is hiring season at OBCA. Check out all open positions here.
(Visited 107 time, 1 visit today)