Have you ever been rock climbing? It feels vulnerable, and especially in the beginning unnatural to be tethered with a rope while your feet are not on the ground. You know you're secure, but it feels scary. While that feeling is there, it's also in a way meditative – completely focused – no phones, no computers, no books, just your next move.
Though meditative, it's not a solitary sport, at least most of the time. On the Ropes Challenge Course in John McLaren Park in San Francisco, high school groups, nonprofit organizations and community members come to experience deeper friendships and learn to work together towards a common goal.
And here, on this Challenge Course, we meet Victoria Lee, with roots in San Francisco, and in Outward Bound California. She's an apprentice on the Ropes Challenge Course. The apprenticeship program is new – its purpose is to create a paid career pathway into outdoor education. We know that instructors of color who reflect the communities coming on course and therefore their experiences, are key to serving the community most effectively, and this program is to eliminate some of the barriers that may keep someone from entering this career field.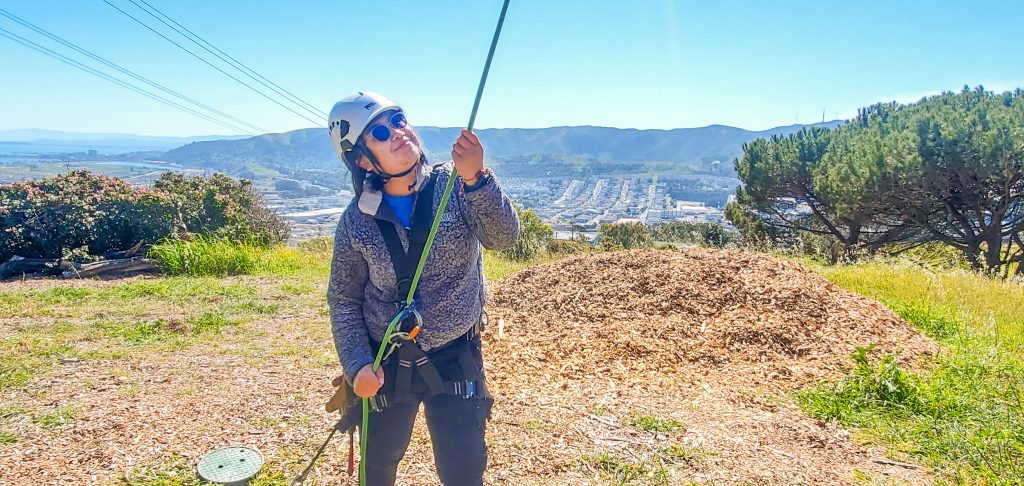 The program is 12 weeks long, with 10 days of intensive training. The apprentices will learn aside seasoned Instructors, and lead groups of students and community members up in the trees of San Francisco.
Victoria's initial encounter with Outward Bound California was in the Bay Area nearly ten years ago. Her freshman class at Mission High School in San Francisco did a scavenger hunt and rock climbing. Later when she learned about the Youth Leadership Corps (YLC) program, she joined. She was the youngest in the group, a sophomore amidst mostly seniors.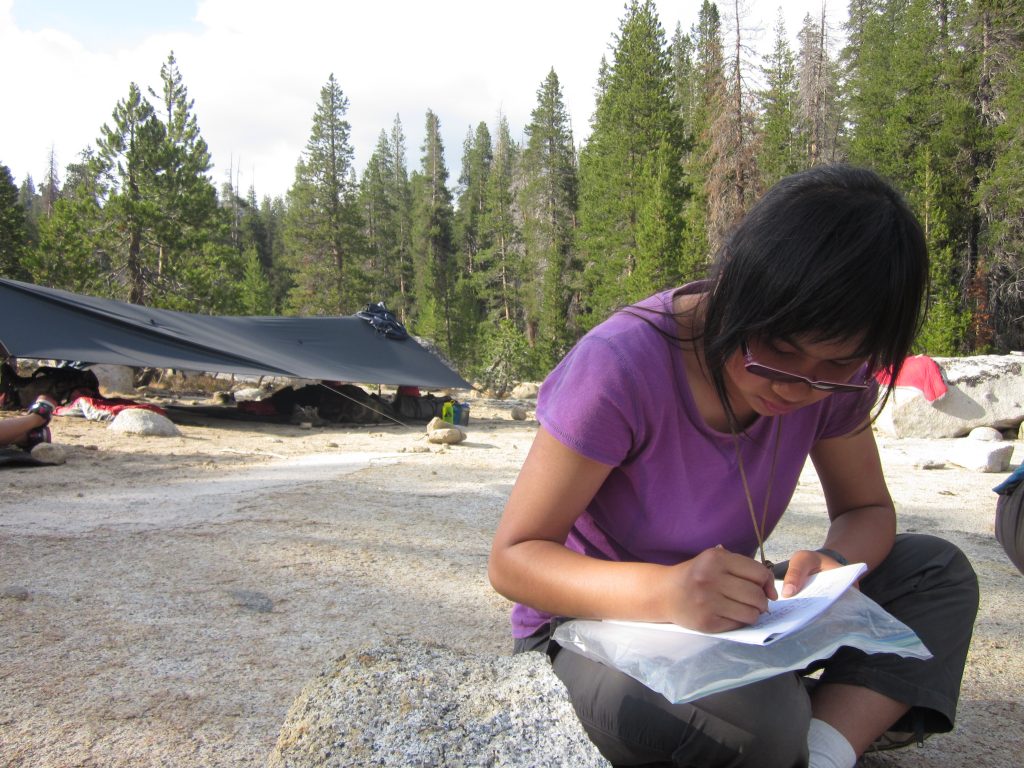 YLC is a merit-based scholarship program that focuses on leadership, a commitment to service and character development. Through the organization and participation in monthly service projects, students build relationships with their cohort. Each program begins with an expedition. Victoria's group expedition was two weeks long in the High Sierra.
On the fourth day of the expedition, the crew walked 2.5 miles near the Courtright Reservoir in the High Sierra to the edge of a granite cliff, known as King's Rappel. This was Victoria's very first rappel.
Victoria looked down from the top, whew, it was daunting. And high. She didn't know if she was ready – was she? Her cohort saw her hesitancy. "You've got this, Victoria," her friend said. "You can do it." A few members began to encourage her gently. They saw what she couldn't see yet, that she was indeed ready. With their support and belief that she could do it, she began to see it herself, and as she put on her harness, even with the fear of not having her feet on stable ground, she knew she could do it.
"The trust we had already built enabled me to feel comfortable to do that rappel. I was so proud of myself for doing it." That experience became the catalyst for the rest of the trip. She climbed mountains and pushed through rappels because of that first one. If she could do that, she thought, with the support of her community, she could finish the course and do so much more.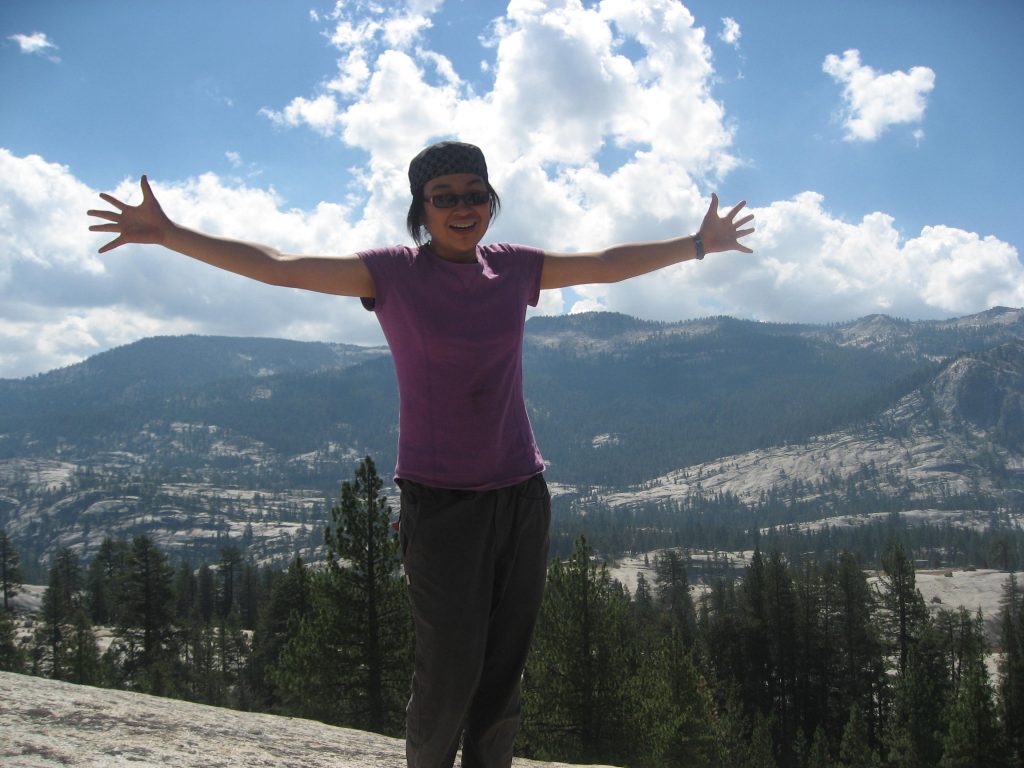 Victoria attributes her community commitment to a few things, one being this experience. The monthly service projects like serving meals to those with food insecurity, writing and making holiday cards for veterans at the Veteran Affairs hospital and beach cleanups strengthened her community connection.
Victoria is Chinese American, and wants to go into medicine to close the disparity of health services in Asian populations specifically. She envisions listening to them, truly hearing their stories, where her Cantonese can take her even farther.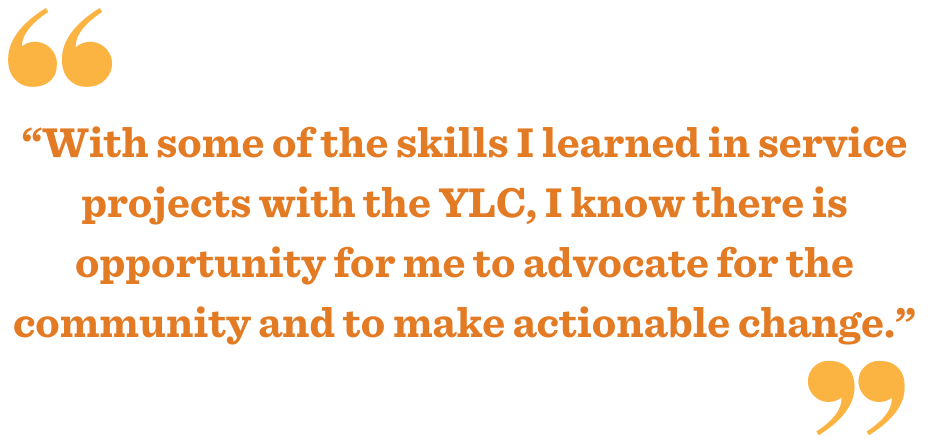 Victoria says on her YLC course, she had the opportunity to get to know herself better. She learned she had some natural skills like being a good communicator, a good follower and a good team helper. She also learned her leadership skills needed developing. She got that opportunity throughout the YLC program. In the beginning of the trip, she didn't feel confident in herself. She was reserved in sharing her ideas and also using the compass to navigate. But she was encouraged to speak by her Instructors and crew. They valued her ideas and perspectives. So she started to say what she was thinking and her team offered feedback and their own ideas. At the end of day, the crew would debrief their day, and share what they had seen, and what could have been better. Then the next day, they would take the feedback and apply it.
She didn't only apply it there, but also later in high school she worked on SFUSD's Student Advisory Council – made from reps from different high schools who represented the whole student body K-12. She doesn't think she would have applied to the SFUSD Student Advisory Council if she hadn't had YLC experience. The experience developed those leadership skills and confidence in order to give back to the community.
In a full circle journey, Victoria found her voice on YLC and now uses it as an apprentice in the first ever apprenticeship program.
As she is mentoring and taking students on the Challenge Course, she is reflecting more on her Outward Bound experience as a student herself, and helping students much like her find their own voice.
---
Looking for your own outdoor career in San Francisco or in the High Sierra? Check out our careers page! We are often hiring seasonal positions, as well as year around. We share open positions in our newsletter, so sign up to keep in the loop!
(Visited 152 time, 1 visit today)