By Allison Croley
Under a blue Florida sky and longleaf pine, he poked his head out of the small solo tent. 
"What am I going to do alone for two days?" he asked. I can't do this. I'm going to go crazy.
"You can do it," I said. It's good to be bored.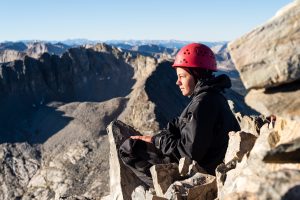 I don't know how many times I repeated that line over the course of my instructing career. I facilitated at least two dozen 48-72 hour solos, and every student, teenager, and adult alike, expressed fear of boredom during a multi-day solo experience. That fear came out in many ways. After seeing the gamut of student behavior when it came to preparing for a solo experience, I became very good at calming students' anxieties and not giving into attention-seeking behavior.
But I was a fraud. 
I had never done a multi-day solo. The longest solo I ever did was a 12-hour overnight solo. Ten of those hours I spent sleeping. But I was an expert in pitching reflection as a necessary part of the experience, encouraging creativity in the midst of boredom, and straight-up ignoring students who tried to complain.
Now here I am, several weeks into California's lockdown. Several weeks into not leaving the house but to run or cross country ski or go to the grocery store. Several weeks into seeing no one but my partner. Several weeks into stressing about what I'm going to do with my time for the next three months (a.k.a whining about being bored). Several weeks into having all the time in the world to do all the things I tell my students to do over solo — write poetry, build structures, organize belongings, read books, reflect. And what have I done? Worry about being bored and completely avoid reflection.
I'm tempted to say that I don't know why I've avoided reflection. That as an Outward Bound instructor, I'm emboldened to take the next three days to "solo." But the truth is, I'm terrified of reflection. Or at least the kind of deep reflection that comes with true boredom and isolation. I don't want to know what thoughts and emotions surface. I'm afraid of the truths I'll dig up about myself.
Boredom is good. 
If someone fed me that same line I fed scores of students, I'm sure I'd snap back. You don't know me. Boredom is triggering.
Reflection amidst boredom requires being vulnerable with yourself, and that can be frightening. One of my favorite authors and social scientists, Brene Brown, talks about the importance of vulnerability and also the exhaustion of it. She calls this a "vulnerability hangover" — "when we get real with who we are, what we want, and how we express it." While Brene coined this term in the context of sharing vulnerability with others, I find it just as applicable when finding vulnerability within myself. Because when I get truly vulnerable with myself — when I realize the true reasons why I stayed in that relationship for too long or why I was angry with my friend or why I still fight with my mom — I find out the parts about myself that aren't so glamorous. The parts that may need some work. And that knowledge requires action — action I may or may not be ready for. This is what scares me.
Thanks to COVID-19, I have a new understanding of the anxieties many of my former students expressed to me about solo. Being forced to sit with yourself is not easy. Over the course of these 18 days, I've been avoiding it as much as I can. But in the spirit of bringing Outward Bound home during these times, I'm committed to exercising the courage every one of my students did over solo. I'm committed to taking the time to, as Oriah Mountain Dreamer says in the poem "The Invitation," "be alone with [myself]" and learn to "like the company [I] keep in the empty moments."
---
Allison was born and raised in California and has a self-proclaimed shark obsession. After graduating college in Los Angeles with a degree in English, she moved to Central Florida to instruct for the North Carolina Outward Bound School's at-risk program. Four years later, after instructing and course directing in Florida and North Carolina, Allison moved to New Orleans and taught 4th and 5th grade English Language Arts. Realizing that the classroom wasn't for her, Allison moved back to her home in the Bay Area and again found herself instructing with Outward Bound California. When not backpacking the rolling hills of Northern California with a group of middle schoolers, Allison surfs, hoping to see a great white in the distance of the Pacific, drinks coffee out of enormous mugs, writes low-grade poetry, and watches lots of political dramas.
(Visited 371 time, 1 visit today)