Ryan Dempsey, aptly known as the Dog Leash Guy, shields his eyes as he speaks to a customer about the climbing rope turned dog leash he's holding. His store front is a kiosk at the San Francisco Ferry Building, situated between locally made necklaces and re-purposed fork jewelry.
Ryan's adventure companion, an Australian Shepherd named Rascal, was the muse behind this all. When Ryan adopted Rascal, Rascal had a leash resembling a climbing rope. Inspired, he used his own retired climbing rope to create a cool leash for Rascal. Friends started requesting replicas. When Ryan ran out of rope, he approached Mission Cliffs climbing gym and they were instantly on board.  Eventually his company, Dog Patch SF, and give-back program, Ropes for Rescues, were born.  
Each leash is handmade by Ryan, using only retired climbing ropes.  When a leash is sold, Ropes for Rescue donates 20% of the total back to the animal community and other mission aligned organizations like, Outward Bound California. "Giving back to organizations is a no brainer for me" "it's a bonus for my soul" says Ryan.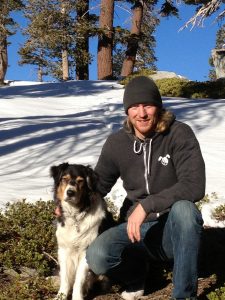 "Giving back to organizations is a no brainer for me," Ryan said. "It's a bonus for my soul."
And not only Ryan's soul, it's good for the environment and the 150+ rescue organizations he donates to.  "It's honest work – everyone is better off than they were before," he said.
Each leash has a note attached describing the backstory with info about the climber who donated it or the history of how it's been used. Outward Bound California has been recycling ropes through the program since 2015. When an alum purchases an Outward Bound California leash, they leave happy with a token to revisit memories of course.
This year, OBCA is receiving an extra special donation from Ryan – a leash made from rope of climbing legend, Conrad Anker. For those of you attending the staff auction in May, you'll have a chance to win it! Funds raised from the auction go directly towards sending a student on course.
Where to Buy:
Online is best right now: www.ropesforrescues.com and if you visit the ferry building, make sure you find the right Dog Leash Guy as his cool product is starting to have knock offs but without the mission. If you buy the Outward Bound California leashes, we get a donation too!
Where to Donate Ropes:
Email Ryan directly at [email protected]
(Visited 1,686 time, 1 visit today)