Written by Natalie Shew, Photos Provided by Natalie Shew and Family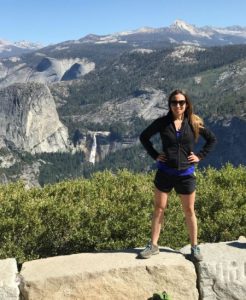 My name is Natalie Shew, I am from San Francisco Chinatown and I am an Outward Bound Alumni. I attended 2 rock climbing courses in Kings Canyon around 2002 and 2003. My memories of those courses are unforgettable. I made great friendships, learned climbing skills I'd use for years to come, and have many meditative and reflective moments from then that I think about all the time. My Outward Bound courses were some of the best experiences I had growing up.  I later went on to work for REI and made lifelong friendships there. I continue to climb to this day and doubt my love for the outdoors will ever lessen.
I wrote this for my dear Grandmother Jessie.
Your life is one anyone could admire. In your 100th year of life, I'd like to reflect and look back at some of your memories and experiences. Finding photos of your past is akin to stumbling upon lost treasures. I continue to be amazed by your life and am strengthened by all that you have experienced.
Jessie was born at home in 1918 on Stone Street in San Francisco's Chinatown.  Her parents were immigrants from Chikan, Kaiping, Guangdong, China who arrived before the immigration station at Angel Island was put in place. Jessie grew up with her family on one of Chinatown's most famous alleys, Waverly Place. Her father even started one of the family associations which is still there today on Washington St.
She attended Commodore Stockton Elementary School just as it was being changed from "The Oriental School." She often mentioned how her grade school teacher gave the pupils a gold star for each day they spoke English during class and not Cantonese.
She was raised with many traditions and customs from her parents land but was a strong-willed American woman with very progressive thinking and a desire for travel and exploration.
When I recently found photographs of Jessie in Yosemite National Park, I was overwhelmed with excitement. What a sight to see her at such a young age posing in front of Yosemite Falls like an invincible and free-spirited teenager, so far from the familiarity of our beloved Chinatown. I've hiked Yosemite Falls so many times and had no idea she had been there before me, a long time ago. I've visited and climbed the walls of Yosemite for years, but she forgot to ever tell me that she had once been there with a bunch of friends from junior college. Then to see her sitting for a picture at glacier point, the trail I had just hiked a few months ago, made me feel more connected to my grandmother than ever.
I also found a few photos of her on the Golden Gate Bridge during opening day May 27, 1937. When I look at these photos, one word comes to mind, "pioneer." Being an Asian-American woman who refused to immediately marry and chose to go to college first was uncommon, to say the least, for that time.
She graduated from Commerce High in San Francisco, and when of age, she made it very clear to her mother that she would not agree to an arranged marriage. Instead, she went to college. First, she attended SF City College and later transferred to the University of California Berkeley where she graduated with a degree in business in 1940. When she looked at the job board on campus, it stated:"Women Need Not Apply."
Jessie looked for work at home in SF Chinatown and eventually found a job with her future husband David Shew.   Initially, David said he did not have work for her, but contacted her a week later to recruit her. After 6 months he proposed, but she declined.  Jessie had hoped to travel to Europe and the rest of the world after college. As WWII intensified, it eventually interfered with her plans.
After 1 year he proposed again and in 1942 the couple traveled to Reno via train to get hitched. She had her first child, my father, in 1943, and raised a total of four children.
The couple purchased a home on Olive Ave in Larkspur, CA where they raised their family, hosted many parties, and lived, up until the mid-1980s. 
Jessie loved to work outside in her enormous garden, behind her Larkspur home in Madrone Canyon, just at the base of Mt Tamalpais.  In addition to taking care of the home and raising children, she assisted her husband with his accounting business.
I was fortunate enough to be raised by this amazing woman-pioneer in San Francisco Chinatown. I even attended the same elementary school as her.  Every day after English school she sent me to Chinese school for language lessons.
I'm very proud to be from Chinatown and to have grown up with my grandmother in her footsteps, and those of my ancestors. 
If you are interested in historical documentaries, Center for Asian American Media (CAAM) put together a documentary on the Chinese Exclusion Act. At the end of the film, there is a home video of my great grandfather's birthday party in Chinatown. "The Chinese Exclusion Act" will premiere on May 29,2018, on PBS: KQED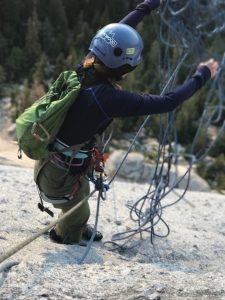 Natalie is a San Franciscan, born and raised. She currently works as an emergency room nurse. Continues to climb outside and enjoys spending her off time with her dogs and her grandmother Jessie. 
(Visited 868 time, 1 visit today)