Our country is hurting and communities are mourning from so much loss.  I hear the anger, pain, and fear. I hear the call for decisive action to be anti-racist. I also hear the call to innovate our business models to center equity and the needs of marginalized groups.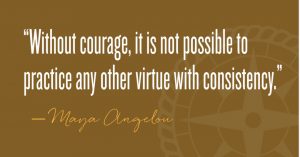 This requires me to step out of my comfort zone; to be courageous and rethink how I work in support of justice. As one of my mentors once told me, "Nettie, don't tell yourself that there is no fear, feel the fear, and take action." As a white, female leader, I will have the courage to meet this call, to not only stand in solidarity with my BIPOC* leaders, but to take action within my organization. 
Courage is one of the four Domains of Thriving (DOT) we have identified as essential ingredients or "magic" in creating lasting impacts on an Outward Bound course that I have previously written about here. At Outward Bound, we define Courage as catalyzing strengths in order to take on challenges and risks.  
Our programs are designed to cultivate students' innate power, perseverance, determination, and assertiveness as they navigate their fear. Courage looks different for each participant based on their lived experience and the opportunities to lean into fear are everywhere. Being courageous may be carrying a heavy backpack, sleeping outdoors under a tarp, or not having access to a shower. For others, it may be facing a fear of heights, cooking a meal together, or even living with a group of strangers for multiple days. Each day brings a new opportunity to push one's limits by traveling through unfamiliar terrain while leading your crew, confronting a crewmate with new conflict resolution skills your instructors taught you or asking your crew for support when you feel nervous scaling a rock climbing route. It is these moments and lessons that reinforce resilience and determination in our students. It is these moments that build courage.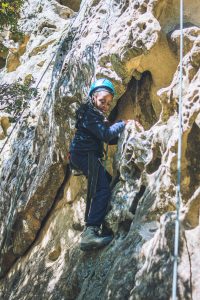 This sense of courage and perseverance is so powerful in moments of deep change as we are experiencing right now. Sometimes the most courageous act is taking one step forward even though the path might not be entirely clear. And sometimes courage manifests in stepping back, TRUSTING others and following their lead. 
I see this moment in time as a pivotal period to step forward boldly and courageously as a leader in the outdoor industry, and more importantly, a necessary moment to move aside to give space to the powerful voices of my staff and students of color.
There is work to be done in our local communities and across our country. Outward Bound California is striving to be courageous in its actions and to stand in solidarity with leaders of the movement for racial justice. As Executive Director, it is my responsibility and commitment to use my power and privilege courageously and intentionally.
Courageous Actions I am taking: 
Ask myself: What is the bold and courageous action for me to take as a leader? 

Do the hard work first. Read, listen, research, learn deep (resources below). 

Listen to BIPOC* staff. Don't expect POC** to provide me with solutions. Be courageous when hearing critical feedback.

Amplify the voices of BIPOC* in leadership and

decision making. 

Be willing to face into conflict and challenge white friends, family members and colleagues, to 

support anti-racist efforts.

Be courageous in how I give money or time and what organizations I support.

Add and evolve my list of actions and never stop being courageous
I invite you to join me in being courageous however that looks to you. Please feel free to drop me a story of courage, or quote that motivates you over email at [email protected]. Stay in touch! Let's do this work together. 
A few resources: 
*Black, Indigenous, Person/People of Color
**Person/People of Color
(Visited 470 time, 1 visit today)