Olga Camacho saw a flier for the Grand Opening of the Outward Bound California Ropes Challenge Course. The new course was opening up in McLaren Park in San Francisco, a 10 minute walk from the high school where she teaches, Phillip and Sala Burton Academic School (usually referred to as Burton). It's now the only High Ropes Course in San Francisco.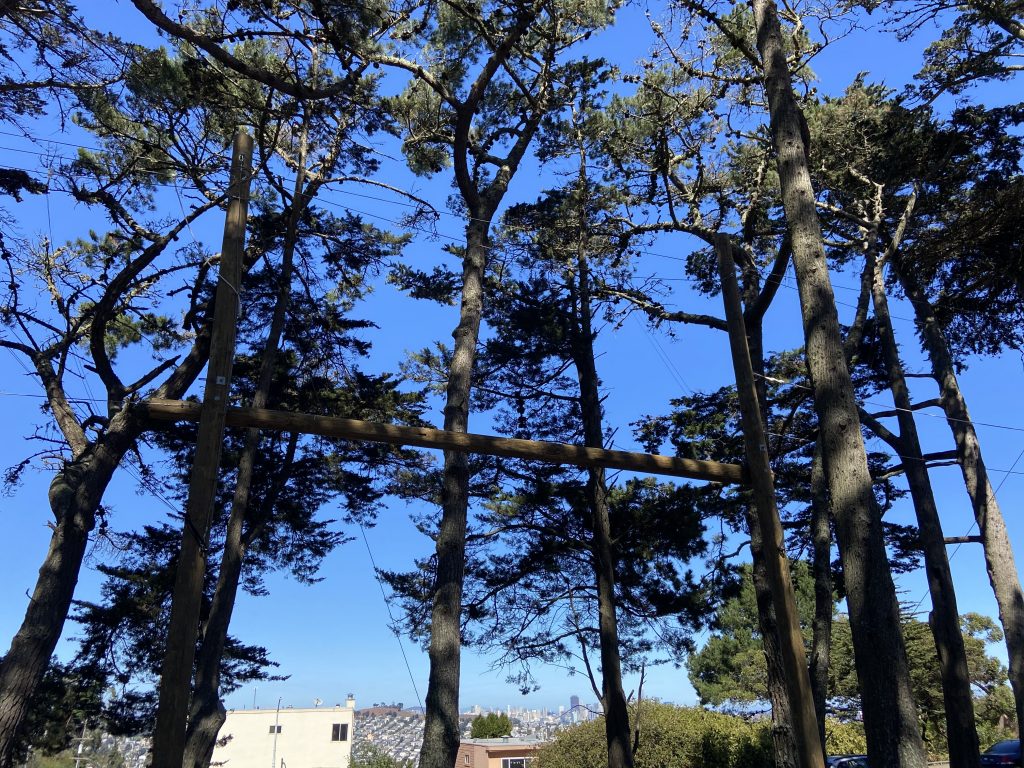 "I'm always looking for resources for students, so when I saw the course, I thought this is perfect, we have to go there and make connections." She went to the grand opening and met the Outreach Manager for the course, Eli Fox. "I asked him immediately for scholarships, and he said the program was currently full so I just kept asking, and when they had a cancellation, Eli contacted me and said it was our turn!"
The course was built with an express goal of serving the students of SF's Southeast neighborhoods. With Burton just down the road, Eli was super motivated to get Burton High School students into the trees. So as soon as there was a space available, he called Ms. Camacho.
Ms. Camacho jumped at the chance. "Yes, we want it!" And she got to work getting school and guardian permission to take the students on the course. It was no small feat with school field trips only recently being approved in the time of COVID.
"Olga is a key factor in why we are able to begin building a robust partnership with Burton. She capitalizes on opportunities and she is so passionate about her students and the trust clearly goes both ways. Changing lives through challenge and discovery would be an impossible task without community leaders like Olga," Eli said.
The course is customizable and has both low and high elements. Participants begin on the lower elements and the focus is on building trust with their group. With the confidence they gain from the first portion, the group moves on to high elements, which are 20 to 30 feet in the air.
Since that first course, four Burton groups have experienced the high and low elements of the course: PE classes, NJROTC (Navy Junior Reserve Officer Training Corps), the PACE Program (P.A.C.E. stands for Pumas' Academics, College & Career, and Enrichments which has a goal to have every student graduate from Burton college ready) and Special Education. A big win for the partnership is being able to work with students that use wheelchairs. Accessibility mats are rolled out to each element of the course to provide a firm stable surface to get into position. Two elements have been built with modifications to accommodate participants with limited lower extremity use.
When an opening came up for three students rappelling spots at the City Skyline Challenge (CSC) fundraiser, Eli called Olga immediately. Generally each rappeller raises funds to help OBCA reach its goal of $300,000 each year for scholarships, but some spaces are reserved for alumni to participate.
"Yep! I know exactly who is going to do this." Ms. Camacho told Eli. That was at 9am days before the event, and at 10am, the three girls Ms. Camacho asked said yes too.
The girls, Ismari, Ariana and Krisel agreed because they said they knew this was a once in a lifetime experience for them and they were excited to do it together. They were also terrified. On the Ropes Challenge Course, they had only done the low elements because they felt nervous for the high ones.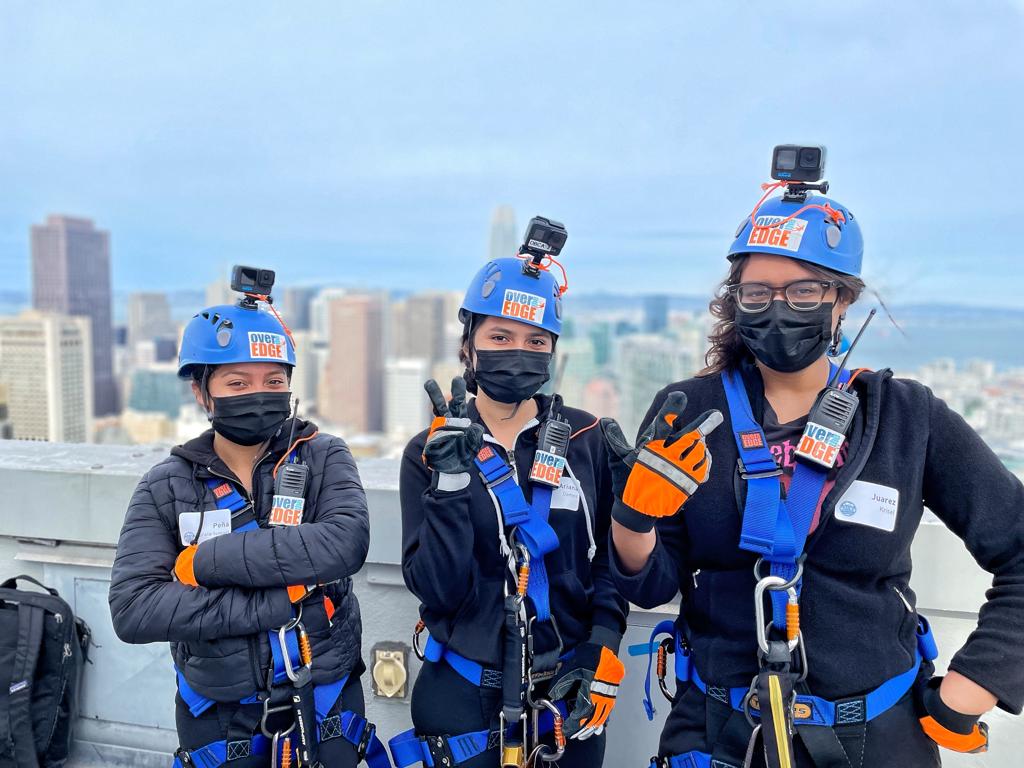 The three girls stole the hearts of the crowd at CSC. They watched others go before them, and Ismari said as she was in her harness, leaning back on the roof edge, she regretted saying yes. Krisel said she didn't even wait to have regrets until the harness. Earlier in the day, she told Ms. Camacho, 'I don't want to do this.' But they encouraged one another and Ms. Camacho believed in them too. "Just like in life, you encounter so many difficulties and obstacles, you just got to go through them. Just go for it, embrace those fears." So they went for it.
The crowd watched as the girls descended the skyscraper and at some point, Ismari and Ariana held hands. They were telling one another: 'we can do this, we're almost there.' As they reached the bottom, Ms. Camacho was there to greet them, along with another teacher, Ms. Sadiarin. They all hugged and cried and celebrated their accomplishment. Ms. Camacho said as soon as they reached the bottom, they asked if they could rappel again next year.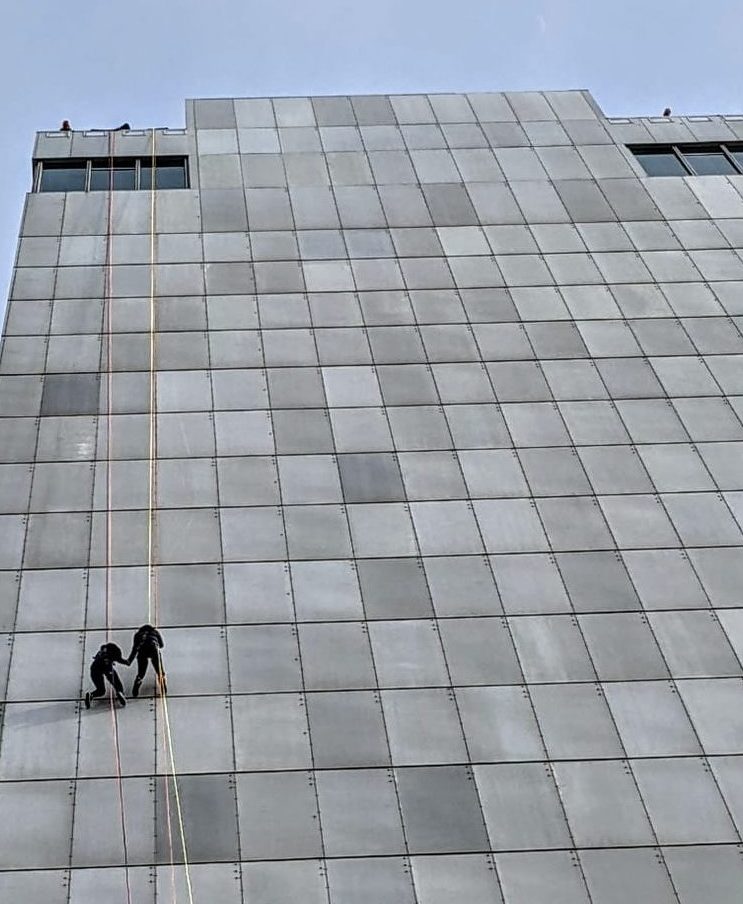 "The power of friendship helps you to feel more secure and you can accomplish anything you want." Ms. Camacho said. "It's good to go through these challenges that we didn't think we could do. The fact that we're there and we push ourselves to go out of our comfort zone and dig deep and do it. That's why I approached these girls, because they're shy. Even when we got there, Krisel said she didn't want to do it anymore, can we go? I said no, you can do it, you'll be fine, just relax. Little by little, she felt more comfortable seeing others who had just finished the challenge."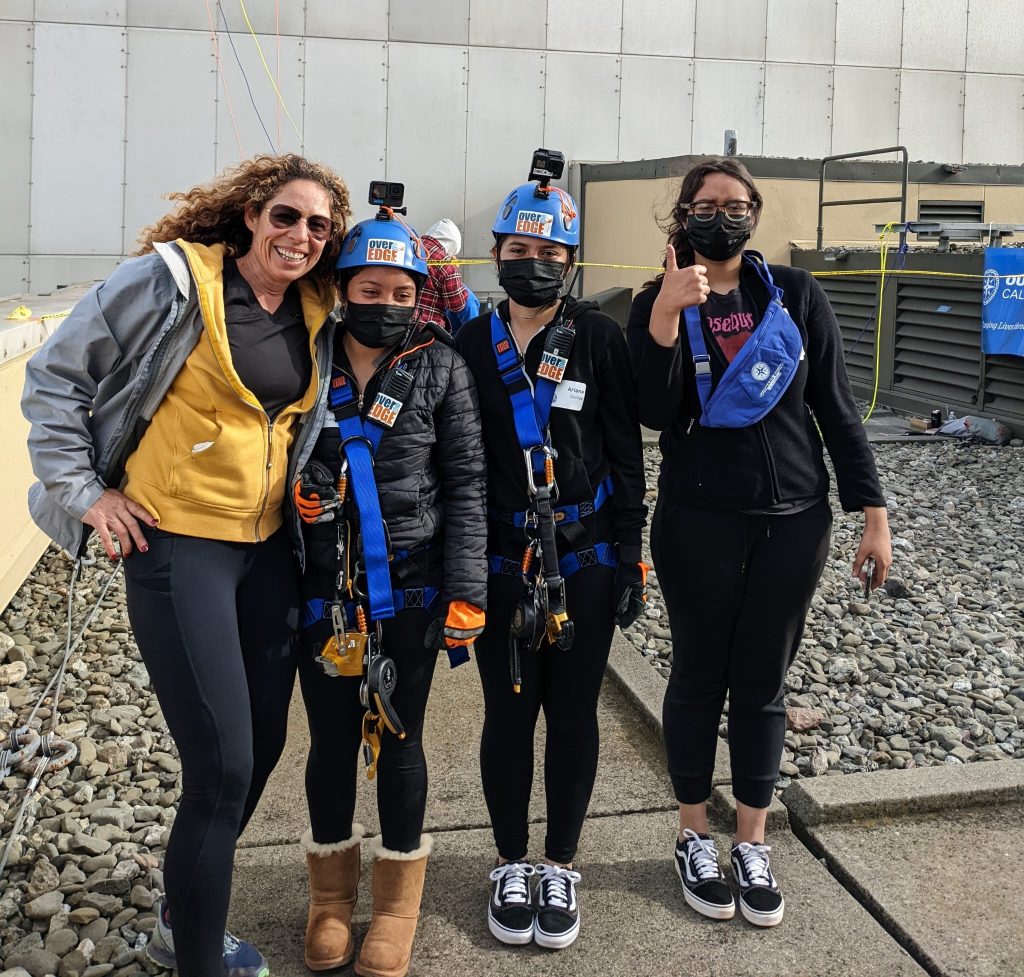 "This is going to carry them and any problems they have, they are going to accomplish anything they want. Because if you can rappel from 46 floors, you can do anything."
That's also why she and Ms. Sadiarin want all 9th graders to do the Challenge Course. "They may not know the benefit of these challenges right now, but even if they only do the lowest level, they realize they can accomplish more than they think."
—–
Help support the Burton 9th Grade Class and others like them to get on the ropes course through a donation to our scholarship fund: obca.org/donate
(Visited 437 time, 1 visit today)