My family's nightly ritual is to offer appreciations for the day at dinner. They're often repeats, but the point is to focus on gratitude. Appreciation is woven into the DNA of our family, inspired by my years at Outward Bound. After the Caldor Fire threatened our home and Outward Bound California's courses a few months ago, I found in impending loss, gratitude comes alive.
Part of that gratitude is that Outward Bound California is thriving after cancelling courses due to the pandemic. We served students in the High Sierra and on the ropes course in San Francisco. Students who had already been on course this summer had been deeply impacted by their Outward Bound experience. After a year of isolation, and increased screen time, they needed this experience. I am taking a breath now to feel grateful.
A couple weeks into the Caldor Fire, the USDA Forest Service temporarily closed all California National Forests because of fire concerns – either actively burning fires, and also that the departments were spread so thin, they couldn't risk additional fires. We had two expeditions going out the next day, students were travelling already to the course start. More than 100 students would be impacted by the newly posted orders from the forest service in the next week and maybe longer. This was going to have a HUGE impact on our organization.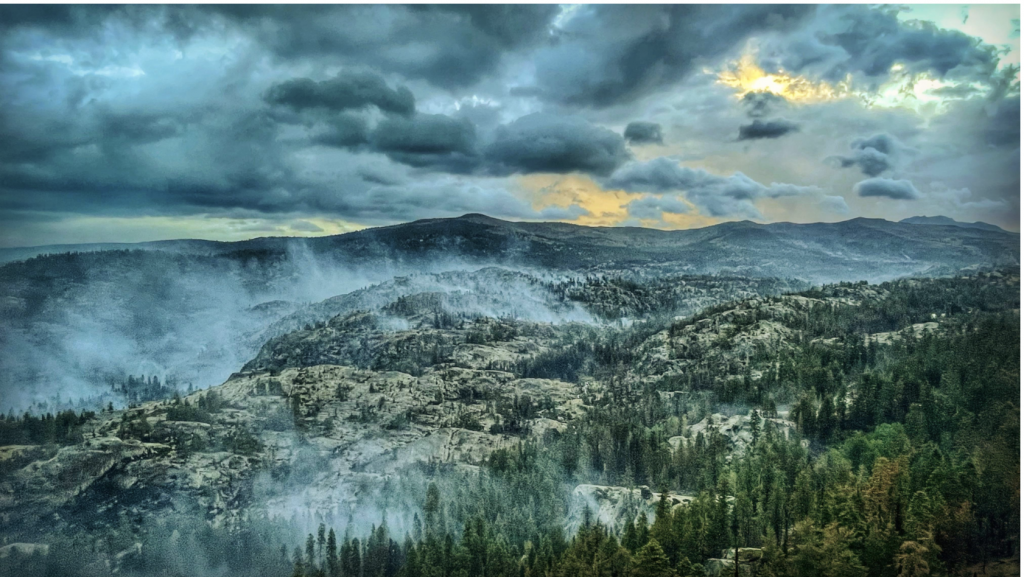 At the end of a long day, our senior team met on Zoom to problem-solve how to safely preserve as many courses as possible with this fire closure. On my other screen, I watched online as flames came down the hillside to our house in Christmas Valley outside of South Lake Tahoe. We had evacuated a few days before due to smoke and impending danger, but we didn't think it would reach our house. Suddenly, I feared the worst. I was distracted making decisions about OBCA and our courses, while I feared for the destruction of my home and community. We came up with a plan in conjunction with the Forest Service and relocated courses to Yosemite National Park. I was so proud of my amazing team for creative problem solving and quick action to prioritize our students.

I'm so thankful that my house survived. We repopulated the area a month later. I cried for how the landscape had changed – charred and barren in many places. The majority of folks are not as fortunate as me. They were displaced from jobs, schools and homes.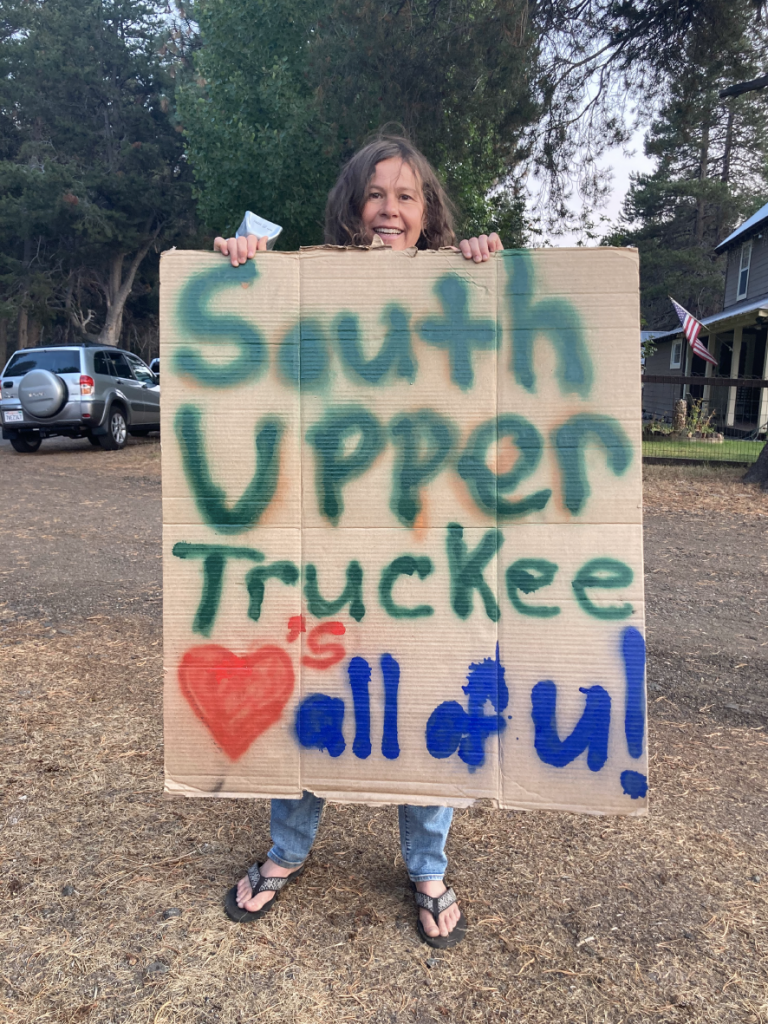 Climate change is amplifying the natural changes in weather, and in the case of California, it's leading to more frequent and more destructive wildfires. This past year, for the first time ever recorded, a fire burned from one side of the Sierra Nevada to the other. And it actually happened twice in the last few months, the Caldor Fire being one of those. The impact of the climate crisis is deeply affecting us here at Outward Bound, individually and collectively. Our Midpines basecamp near Mariposa was evacuated in 2017 and has been threatened each year since. We are adapting to a shifting climate around us with drought in California and throughout the West and we are continuing to serve students. We have a responsibility to integrate climate change into our business plans, curriculum, and our strategy. If not now, then when?
Weeks have passed, the ground is damp from recent rains. I feel called to make changes as I look at the fire scars on the mountainside. It's sobering to see the stark burnt trees on the horizon on my favorite trails, but fire creates space for new growth. And I'm holding space for that growth in the land and in me.
As Executive Director of Outward Bound California I am compelled to consider and respond to the changing environment. As a person in a leadership position, I'm asking myself,
How can we teach our students how Indigenous people in California used fire as a natural part of being part of living with the land?
How do we build resilience and flexibility into the OBCA business model preparing for climate change?
How can I be of more service to my community, my state, my country and my planet, and the organization I have been entrusted to lead?
What responsibility do we have to our children to change habits and our practices?
I have many questions and very few answers. As I head into our next strategic planning process with our staff and board of directors to develop our vision for impact, I hope you will join me in shaping what's ahead at Outward Bound California.
We need to be in this together. Join me.
(Visited 333 time, 1 visit today)