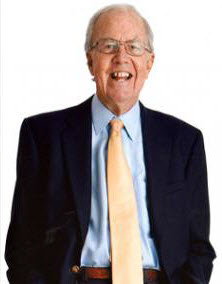 On December 28, Outward Bound California learned of the passing of Bill Bowes, a beloved member of our community and staunch supporter of our work with underserved youth.

Through the William K. Bowes, Jr. Foundation, Bill made a founding investment in the Outward Bound Bay Area Center in 2008 and ensured the success of this new initiative with very generous continued support over the years. We are deeply saddened to hear of his passing and today take the time to celebrate his life and his myriad philanthropic contributions to the greater Bay Area community.

Bill was a soft-spoken yet powerful leader in the philanthropic community, dedicated to youth education, college access, fine arts and medical research. He volunteered extensively, serving on boards and committees for major Bay Area nonprofits including the Exploratorium, UC San Francisco, the Asian Art Museum, the Environmental Defense Fund, the San Francisco Conservatory of Music, Grace Cathedral, United Religions Initiative and more.

He embraced the role of being a generous and early supporter of new initiatives and campaigns he believed in, inspiring other philanthropists to follow suit. In May of 2016, Bill made a leadership gift of $3M to support Outward Bound California's comprehensive campaign to expand our work and deepen our impact across the state. He made similarly transformative leadership gifts to launch the campaigns of SFJAZZ and the Exploratorium, shaping the landscape of the philanthropic sector in San Francisco in real and lasting ways.

Born in 1926, Bill was a San Francisco native and a graduate of Lowell High School. He served in the US Army during and after World War II and attended Stanford for a BA degree in economics and then Harvard for his MBA. He was the founding shareholder of Amgen and its first chairman and treasurer and later co-founded U.S. Venture Partners, which has invested billions of dollars in hundreds of companies.

Bill's passion for Outward Bound's work stems from when he served as a camp counselor as a young man, bringing youth from San Francisco up to the Sierras and Yosemite.
"Each time I met with Bill over the years," recalls Outward Bound California's Executive Director, Josh Brankman, "he would tell me with a smile about his memories of being a camp counselor. He'd seen the magic that happens when young people have a chance to expand their horizons and challenge themselves outside their normal environment."

Bill's humble demeanor belied the magnitude of his contributions to Outward Bound California. His contributions over the past eight years empowered more than 9,500 young people to achieve greater levels of personal and academic success through Outward Bound programs. They also paved the way for our organization to grow from a regional program of Outward Bound USA serving 400 students a year in 2008 into what is now a locally autonomous nonprofit reaching nearly 2,500 students on 10,000 days of programming a year and still counting.  

"Simply put, the Bay Area Center and subsequently Outward Bound California would not be where it is today without Bill Bowes' early support in 2008 and again in 2016," says Outward Bound California Board Chair, Kevin Causey. "I had the great honor and privilege in working with Bill in his efforts to make his community a stronger and brighter one. I won't have the pleasure of working with many others like him. There aren't many."
A celebration of his life will be held at Grace Cathedral on February 6, 2017 at 4:00 pm.
(Visited 303 time, 1 visit today)