It was almost one year ago that our small administrative office first began talking about Covid-19 as isolated cases emerged close to home. There was uncertainty in the air – we had no idea how, when, or to what extent this would affect us as individuals and an organization.
It was also one year ago that I sat down and began writing the very first Being Outward Bound blog, feeling so excited about pulling the curtain back on WHY Outward Bound changes lives. At the time, I had no idea that I would be using this blog as my main tool to connect with you in 2020, as we talked about belonging when we were distanced, courage when we were called to take decisive action, and finding physical engagement in our new virtual world. These are three of the Domains of Thriving (DoT), or the social and emotional areas that foster development in our students. And today, I want to dive into the last one, reflection. After all, 24 years at Outward Bound and I am still reflecting on how this organization pushes me to grow and learn, and 2020 was no exception!
Reflection is a key element of an Outward Bound course, where students and staff take time as individuals and a group to look back on their experiences and share feedback. This builds both self-awareness and social responsibility, by helping students to identify their own thoughts and emotions, and connect those to how they engage with their group, or how they view themselves and their community.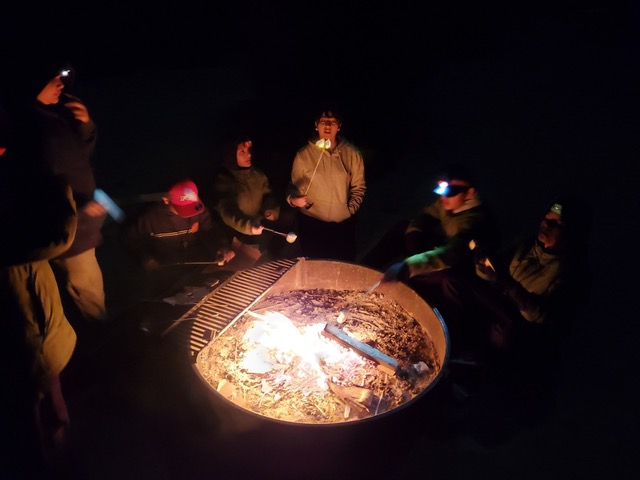 At some point early in our Stay at Home quarantine, I started a nightly "Check-In" with my six-year-old daughter. We would lay in bed to reflect on the day and ask each other questions. "What made you sad today? What made you happy?" she might ask. "What are you proud of doing today? What are you sorry you did today (ownership)?" were a couple of my favorites. We continue this check-in today and my daughter has begun to depend on this time of reflection that we have built into our lives over the past year.
The magic of an Outward Bound course begins in outdoor spaces, but the learning continues beyond our curriculum and course areas. Students bring their skills back home, where they continue to grow and evolve within their communities. I see this when I implement practices like reflection at home with my own family and I want to share every resource we have to change lives, cultivate leadership and foster resilience with you at home.
That is what 2021 will hold for "Being Outward Bound." We will be pulling the curtain back even further on how to translate OB's powerful conditions for learning to your everyday life, whether you are outside in nature, or around the dinner table with your family.
So, how can we encourage reflection with ourselves and our close communities? Here are two practices to start:
Connect & Reflect: Build time into your daily or weekly schedule to gather with your family or roommates to share ownerships & appreciations. Perhaps at dinner each night or before your weekly movie night begins, have a time where you ask each other questions about the day or week.

What: An ownership is sharing a moment of learning, mistake, or behavior of your own that you would like to take responsibility for. These can be positive or constructive! Appreciations are statements sharing what you admire in others, an experience, or other gratitude.
Why: This debrief practice is used on OB courses to help students develop self awareness, by considering how their actions impact other people, what they want to hold onto and what they might like to change.
Tackle a Group Project: Design a project that involves every member of your family or chosen group and requires everyone's input and support to achieve a common goal. Pick something that you can do more than once or pause midway and challenge yourselves to reflect and find ways to improve.

What: Examples include planning and cooking a family meal (include the grocery shopping in the task!), complete a puzzle or team board game, create a timed scavenger hunt or obstacle course.
Why: Including every voice and taking time to listen to each other during group activities builds accountability, perspective and interdependence. Taking a moment to reflect during or after you've completed the activity allows each member to contribute to improving the group dynamics, recognizing their part in achieving a common goal and ultimately making sure each person feels included and heard.
Bonus: Incorporate appreciations and ownerships into your reflection (from above).
Many of us have been in survival mode for much of the past year, and I feel hope at promising developments in the fight against COVID that will help us return to spending time with one another in person. I also know that the racial justice movement, ongoing economic disparities, and the climate crisis will continue to need our time and attention. It will be through reflection and critical thought about different perspectives and our roles in the community that we will find shared goals and move forward together.
How will you bring more reflection into your life to navigate the challenges ahead?
(Visited 230 time, 1 visit today)