Skyline to Sea Trail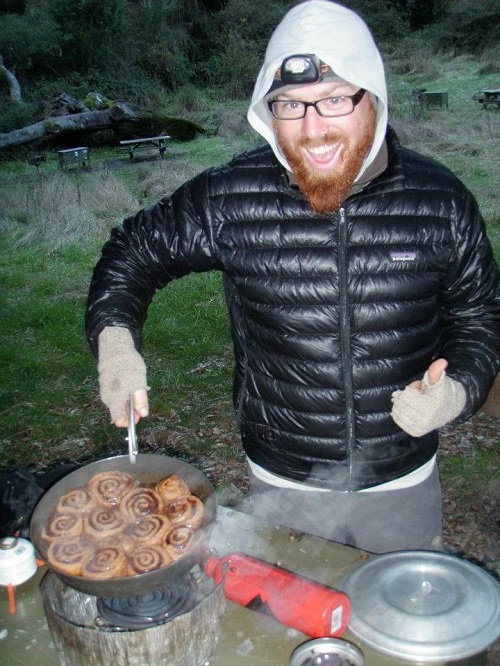 Location: Castle Rock State Park in the Santa Cruz Mountains
Distance: 27 miles one way (3 days), park two cars or have someone drop you off or pick you up
Elevation Gain: 1,710 feet
Difficulty: Moderate
Permits Needed: Yes
Staff Suggestion: Sean Altman, Bay Area Program Coordinator
With views of Monterrey Bay on the ridges, the trail winds through old-growth redwood forests, four waterfalls at finishes at Waddell State Beach in Santa Cruz. Spring is a great time to go with blooming wildflowers, flowing creeks and lush ferns.
Sean's favorite backpacking fare: Cinnamon Rolls made overnight in a zip lock baggie.
Photo: Sean making those cinnabuns.
Tenaya Lake to Clouds Rest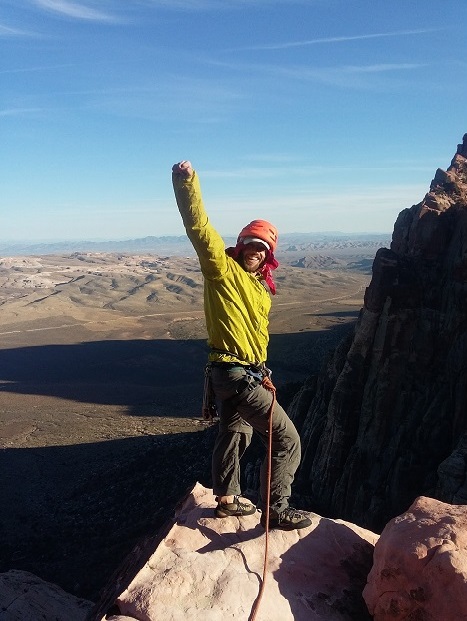 Location: Yosemite National Park
Distance: 14 miles round trip
Elevation Gain: 1,776 feet
Difficulty: Strenuous
Permits Needed: No
Staff Suggestion: Jason Schmidt, Assistant Program Director
This day trip has a big pay out with a 360 view of the Yosemite National Park, looking down into Tenaya Canyon past Half Dome. As Half Dome is the more popular hike, it requires permits, this one bypasses that step and provides an equally impressive view.
Jason's Tip: Woah Nellie Deli in Lee Vining has delicious Fish Tacos for your picnic at Clouds Rest.
Photo: No this is not Clouds Rest, just an awesome image of Jason rock climbing at Red Rocks near Las Vegas
Point Isabel Regional Shoreline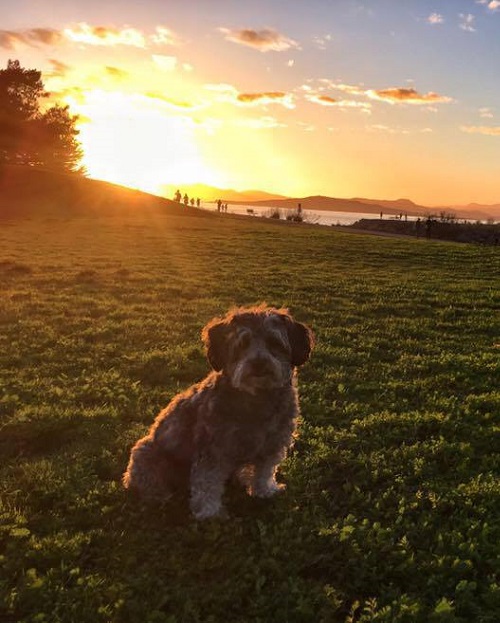 Location: Richmond
Distance: 23 Acre Park for Playing
Difficulty: Easy
Staff Suggestion: Russell Cowan, Program Coordinator
Though not a hike, this is a lovely open and scenic space in the Easy Bay. Russ takes his little bud, Atticus, on an off-leash-dogstravaganza. The park has bay views of San Francisco, Mount Tamalpais, and Angel Island.
Russ' Tip: Try the delicious veggie sandwich from Sit & Stay Café.
Photo: Atticus living life at Point Isabel
Dias Ridge – Panoramic Highway to Muir Beach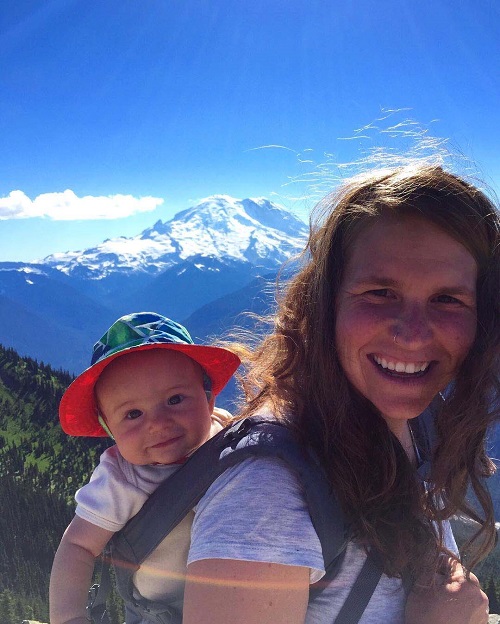 Location: Marin
Distance: 3 miles one way or 6 mile round trip
Elevation Gain: 1,225 feet
Difficulty: Easy One Way or Moderate Round Trip
Permits Needed: No
Staff Suggestion: Maggie Lyons-Weller, Bay Area Program Director
This trail takes you through a variety of eco systems with 20,000 newly planted native grasses and descends on Muir Beach. If you go one way, you'll need to drop a car at the end location.
Maggie's Tip: Enjoy lunch on the lawn of Pelican Inn, they have yummy Shepherd's Pie and a good Fish and Chip plate.
Photo: Though not Muir Beach, what's cuter than Maggie and Porter being happy outside?
Brook Loop Trail

Location: Pescadero Creek State Park
Distance: 6 mile loop
Elevation Gain: 1,300 feet
Difficulty: Moderate
Permits Needed: No
Staff Suggestion: Simon Hill, Logistics Manager
The Brook Loop trail is 6 miles of wandering single and double track that crosses between Pescadero Creek State Park and Sam McDonald State Park. The trail winds, occasionally steeply, from open grassy ridges with ocean views down through dark valleys thick with looming redwoods. The loop itself is about 6 miles with some noticeable elevation change. At the high point of the trail you'll pass by the rustic Sierra Club Hiker's Hut which is available for reservations.
Simon's Bonus: Start the trail from the Heritage Grove parking area in Sam McDonald park and check out the enchanting cathedral of old growth redwoods there. This adds about 2 miles to the round trip.
Photo: Simon took this at Pescadero Creek State Park
New to Hiking/Backpacking?
In Oakland, Outdoor Afro is a community that reconnects African-Americans with natural spaces and one another through recreational activities. Check out their next meeting here.
Latino Outdoors "connect familias and youth with nature, engage and inspire Latino leadership, empower communities to explore and share their stories in defining the Latino Outdoors identity." They post events on their Facebook Page.
REI has a Hiking Basics class for free!
Check out the Meet Up page for a hiking group near you!
REI and Sports Basement rent gear so you don't need to buy gear up front.
Note: The Ranger Station is no longer available. And the best of all, Alite's The Ranger Station lending library has camp kits stocked with tents, sleeping pads, headlamps, lanterns, Alite Chairs, and a daypack – totally free! This is open April – October and located in San Francisco.
(Visited 1,029 time, 1 visit today)